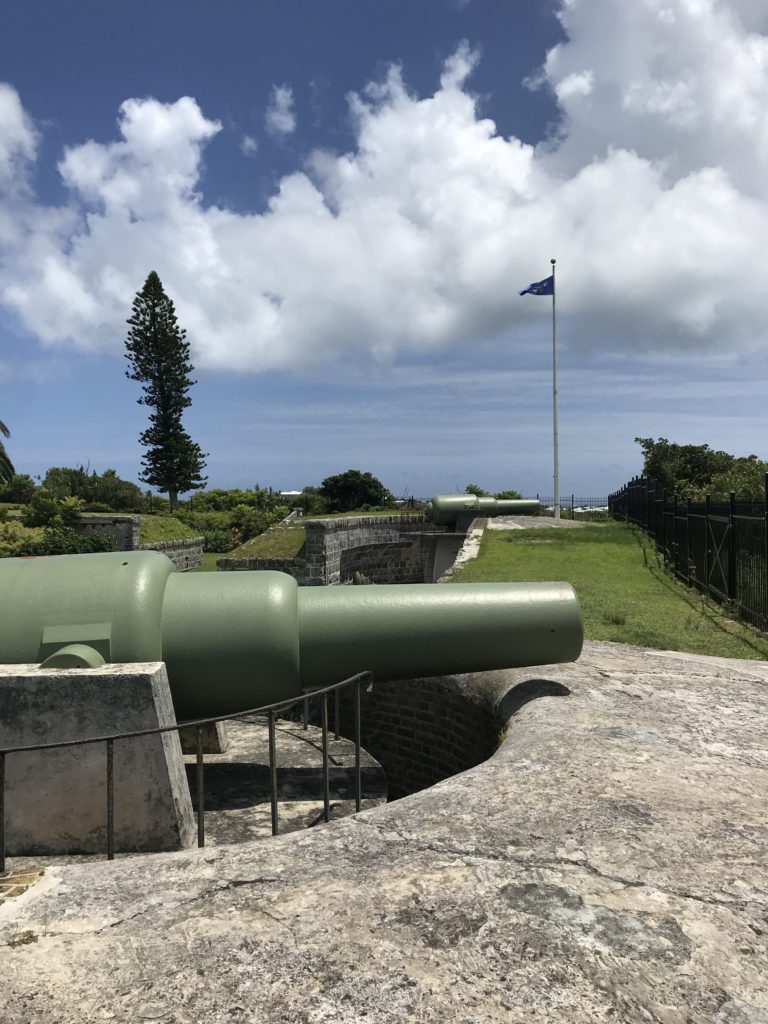 The last eleven days, we have seen the typical tourist sights, participated in the economy, washed clothes, bought water and ice and diesel fuel, Talked to local Bermudans, fellow cruisers, and to tourists, and we have developed a view of Bermuda.
Bermuda is a wealthy country, with income equivalent to the USA. We were told that a pool man makes $60,000. We have seen little evidence of a poor economic class. Yes, there are the elderly, disabled, and infirm, but they seem to be cared for by the system. Not once were we hassled by a panhandler, or approached with some tourist hustle. Walking down the street, strangers will say "good afternoon"to you. Salli, during a visit to the grocery store, asked for a bag of ice, and was gently chastised "and good morning to you too". Bermuda uses the $US as currency, like The Bahamas and Ecuador, so it is easy to compare prices. On the whole, things cost a bit less than double the US price. This is not the Bermudians taking advantage of the tourists. They pay these prices too. Nearly everything is shipped from someplace else, by ship or airplane. There is no farming, and little industry. Diesel fuel is $1.90 per liter, which works out to about $7.30 per gallon, but there is a hefty amount of tax in this. We were offered duty-free pricing which was more like our price at home. Beef and chicken were higher, but not lamb. Oddly, the Bermudians seem to eat little fish, even though we found fish jumping out of the water at our anchorage. The only fish in the grocery store was shrimp, salmon, canned sardines, and salt cod. There are fishing trips for tourists, but little evidence of commercial fishing. A waitress told us there was no fish market in Bermuda.
We are planning to leave for The Azores tomorrow morning: 1800 miles, three weeks perhaps.
Last minute tasks: laundry, water, dive (snorkel) to clean hull, mail letter to IRS, check all rigging, fold up and secure dinghy, groceries, 50 lb ice. We got our ice at the grocery store; when we were checking out, we realized we had way too much for two adults to carry: not to worry, we were told we could take the cart to the waterfront, if we promised to bring it back.
Ahh… Bermuda!