We left St Augustine on Saturday, December 2nd and headed down the coast to Lake Worth in West Palm Beach . We sailed past the Kennedy Space Center and one of the launch pads had a rocket in place. Picture isn't great but the bright white light is the launch pad.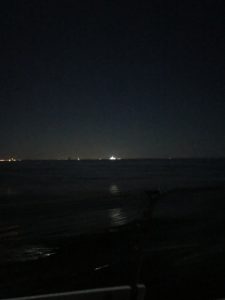 We again had a bright moon each night but none as pretty as the super moon on Sunday . We had dolphins swimming with us everyday.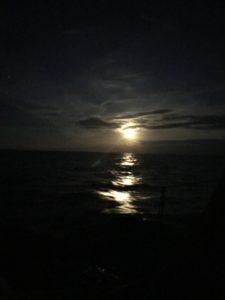 We had great wind for running wing on wing most of the day and evening on Sunday.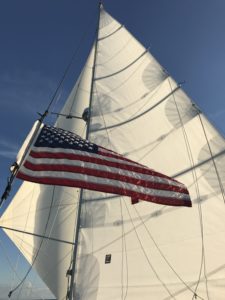 We arrived Monday morning before dawn so had to heave too and wait for daylight. We anchored in the north end of Lake Worth which didn't have a marina that would let us dock our dinghy. We had to leave it under a bridge by a road which didn't feel very safe. A friend suggested we check out the Palm Beach Sailing Club on the south end of the lake. They are very cruiser friendly, providing a dinghy dock, showers and laundry facilities for a small fee. We moved the boat and have been very happy. Doug says it is a yacht club for regular people.
OOn the sail down the coast Doug noticed a transmission oil leak. So the last couple of days have been spent researching where to get the right gaskets and seals for our 40 year old engine. Doug spent about 4 hours traveling around town on the bus getting the parts he needed. Things should be back together tomorrow.
We get to spend the day with our daughter, Amanda tomorrow as she has the day off from work. It will be great to spend time with her and be off the boat for a while.
Once the transmission leak is fixed we will wait for the right weather window to cross the Gulf Stream heading to the Bahamas.