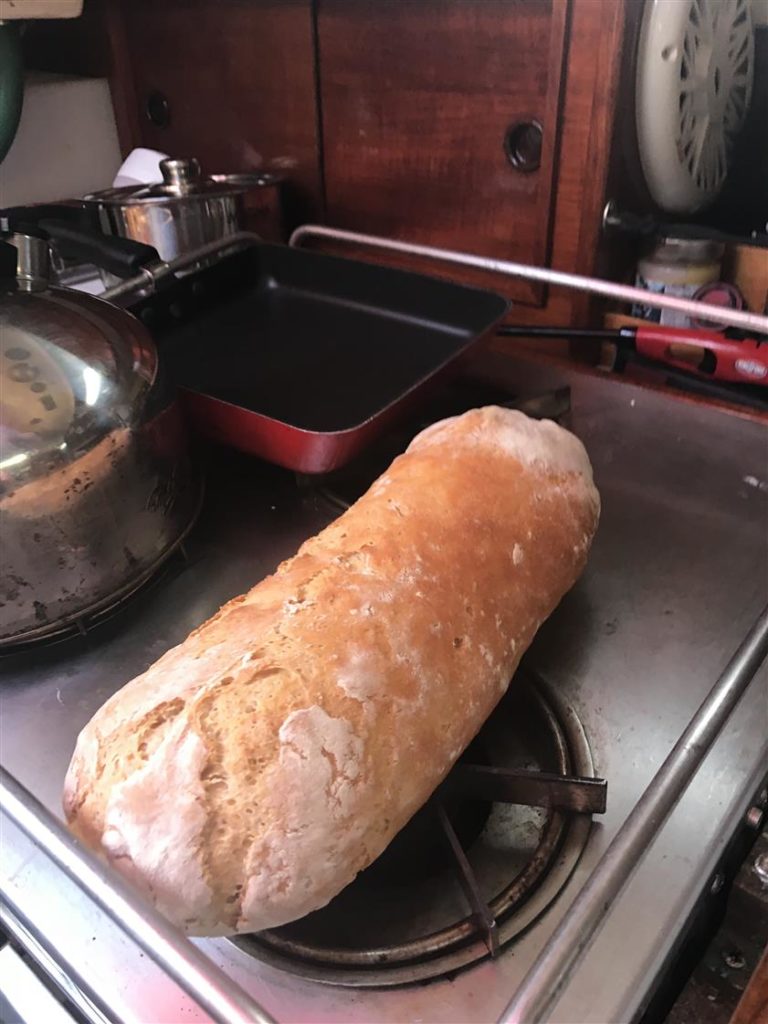 Today is our 11th day sailing from Bermuda to The Azores. Our progress was a bit slow at first because we didn't have much wind, and because we had to go out of our way to the North in order to find more wind. We had rain most of the first day, and not much since then. On the whole our weather has been delightful with weather much like we have at home, but a bit colder. Our wind has ranged between 5 knots and 23 knots. 5 knots will push us along at approximately 2 knots, and anything higher than 17 will give our maximum (hull) speed of 6.5 knots or so. The wave heights have generally ranged along with the wind speed: Less than 11 knots of wind giving us 1 or 2 foot swells, 15 k wind giving us 4 foot swells, and 19 k giving us 6 or more. This relationship creates an inverse relationship between comfort and progress.
Watch: For the most part, our steering is automated for us. Our job is to maintain a watch at all times (someone awake and scanning for other traffic, and misbehavior of the boat, Olive Oyl, and steering system, Brutis). This takes some discipline, as there are hardly any other boats nearby. In eleven days, we have seen perhaps 5 cargo ships and no other sailboats. We have seen 3 or 4 sailboats on our radar-like AIS display, but none close enough to see by eye. Salli and I each take an average of 12 hours watch a day. This doesn't mean staying on deck at all times, The person on watch can go below to make something to eat, or track down some errant piece of clothing, so long as it doesn't take too many minutes.
Sleep: We both get a full 8 hours of sleep, usually more. Our rule is: if you want to, take a nap. Our watches at night are 3 hours long, so too is the sleep for the other crewmember.
Free time: Simple math would indicate only 4 hours of free time, but, like the night watchman, some reading, podcast listening, and email writing can be done during watch. In my case, I have been doing more and more maintenance as the trip progresses and my stomach gets more and more accustomed to constant motion. Wednesday, I fixed a reefing cheek block on the boom. This involved sheeting in the end of the boom, so it was accessible from deck, donning a safety harness, and removing the reef line and block, installing a new block in a slightly different position, drilling and tapping holes, etc. All the while hanging off the side of a sailboat, sailing at 5 knots, while Salli acted the part of the operating room nurse, handing me tools and screws. It sounds worse than it was. Even Salli, having been briefed beforehand, and seeing the reality, thought it was fairly easy. Wednesday, I also discovered that my AIS transmitter was not transmitting, and that it was due to a problem with the antenna. We have three VHF antennas, and it was easy to swap two of them once I figured out what the problem was. I also fixed the electrical system ammeter.
Yesterday, I fixed the watermaker, and today, I fixed it again. It looks like I may have to fix it tomorrow too. Not to worry though. We currently have 30 gallons aboard. Today, I baked sour dough bread.
Salt: As the sea gets wavier, more of it comes onboard. These are not the angry surfer pipelines, but gentle larger waves that have some foam at the top, which is often tossed onboard. This is a constant irritation, once it gets in your clothes you cannot get it out. You can hang them out in the sun, but that only increases the concentration of the salt, which attracts more water from the atmosphere. With an unlimited fresh water supply, we could rinse them out, but rinsing takes a surprising amount of water. The only solution is to wear foul weather gear, or dispense with clothing altogether. Not a great option when it is cold.
The most difficult task.
Salli and I have discussed this a bit, and we are in agreement on this one: The most difficult task aboard a sailboat underway in a seaway, is putting on your pants. Think about it, how do you put your pants on at home? You need both hands, and twice, you need to lift a foot off the floor. This is difficult at home, and is best accomplished leaning up against something, or sitting on a high mattress. When everything is moving around, you need one hand just to hold on. You can lean against something, but that something may move past vertical, throwing you off, and making you let go of your pants to keep your ballance. My technique is to wedge my shoulders into the doorway to the head. This works because my shoulders are a bit wider than the doorway. Salli's technique is to stand in front of the hanging locker and lean her head against the door. Another method would be to lie down in the leeward bunk and squirm into them. Are there any experienced cruising pants-wearers with advice on this subject? I, for one, am considering trying a kilt or bathrobe.