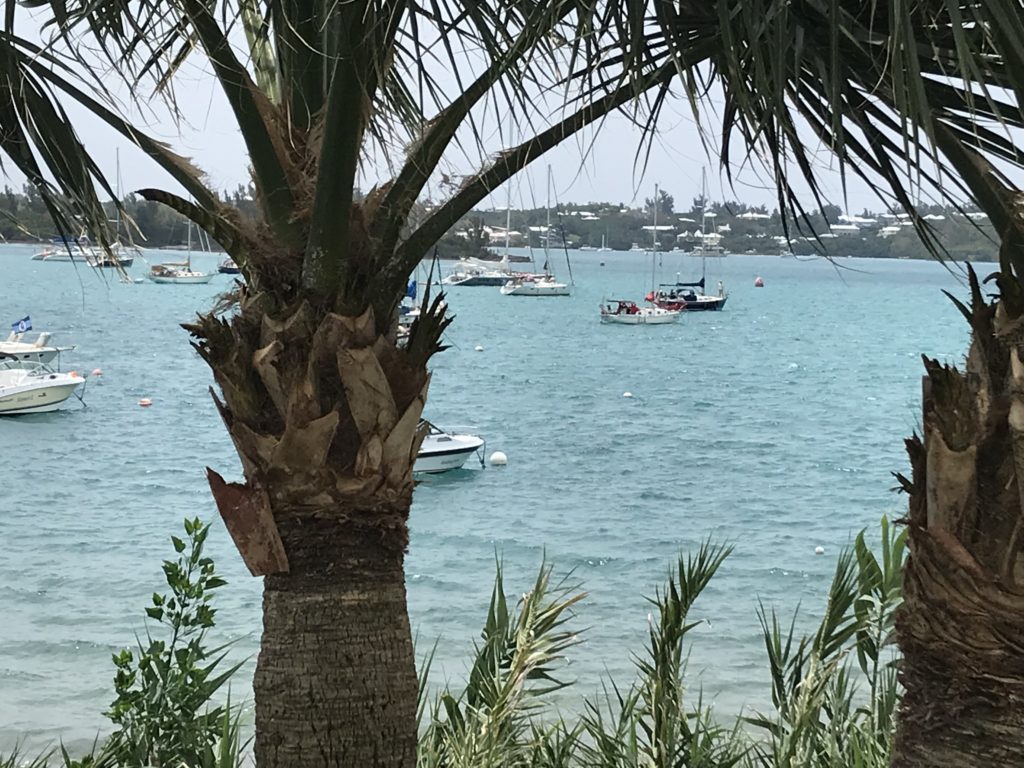 We have been at anchor in St George's Harbor, Bermuda since Friday. We arrived at dawn, 6:30, checked in to customs, and found an anchorage quite close to town. We immediately went to sleep for a couple hours, went into town to get oriented, had a meal at a real restaurant, rowed back to Olive Oyl, and slept for 12 hours. Saturday, we spent, fixing Olive Oyl's bilge pump (found a tiny piece of something stuck in a valve), organizing our stuff, and walking around town. St George is a small town in a small country. Bermuda's population is about 71,000 (compared with Charlottesville, Virginia at 47,000). The whole country is only 21 square miles.
St George has a grocery store, hardware store, a number of small marinas, several restaurants, 2 gas stations, a laundromat, and some tourist features, but not too many to be irritating. A nice friendly place. After being in the Dominican Republic, I keep forgetting I can speak English here. The Harbor is modest too. There are about 30 sailboats here, some staying for weeks or months, then going back home. Others, resting and re-provisioning for continuing on, either to the USA, or to the Azores.
Today, we did laundry, bought ice, and figured out where to buy diesel. It was very windy today and rained quite a bit, a welcome change, washing the salt from our deck and everywhere else. Max observed wind: 30 Knots. Tomorrow, if it isn't too stormy, we may go to Hamilton, or to the Royal Dockyard.