February 7, 2018
The next day, after a leisurely breakfast, we again sailed off our anchor, and headed South. On the radio, we heard two boats talking, and we knew one of them, Brynli. It turned out that they and two other boats were sailing to Rock Harbour too, and were approximately where we were. We could see each other, so our sail turned into an impromptu race with Olive Oyl (the smallest) placing last. It was a glorious sail with blue skies, and strong winds. Six and a half hours after we started, we were dropping anchor in Rock Sound Harbour near a white sand and stone beach.
We stayed at Rock Sound Harbour for six days. People were very nice here too. The waitress at Sammies, had a cousin who cut hair, just what Salli needed after three months; the cousin picked her up at the beach in her car. There are several blue holes in the area which connect to the ocean to the East. Some are large round holes in the ground with mostly straight sides, much like huge swimming pools with no bottom. There are also blue holes in the bottom of the harbor. The chart advises not to anchor in one. We swam in one that was less than a mile inshore from our anchorage. Lots of fish that came over to be fed.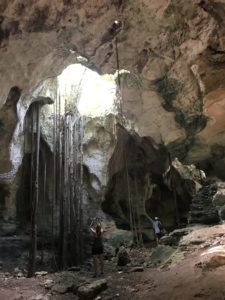 There are caves here near the water about one mile from where we were anchored. A group of us tried to find them. We thought we were getting near, when one of our party flagged down a passing car. The woman driving, didn't know, but called someone who did. He gave directions, said he hadn't been there since he was 16, he was now in his 70s. They were very interesting caves, with holes at the top, open to the sky, and 40 foot roots growing down to the cave floor.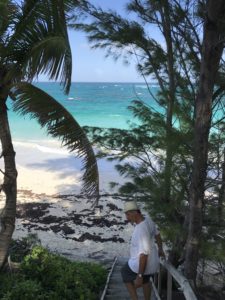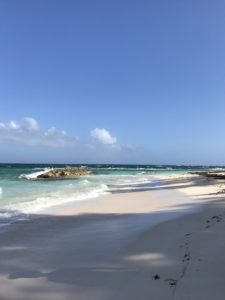 One day we were walking across the island to see the ocean beach (about 2 miles), and a woman stopped and offered a ride. Her name was Rosie, she had a nice place on the ocean side where she sometimes produced meals for tourists. When we were done, she drove us back giving us a lesson about the local foliage, especially how to recognize Poisonwood, a poison ivy-like woody plant. We topped up on groceries, gasoline ,ice and water in preparation for the next leg.