February 13, 2018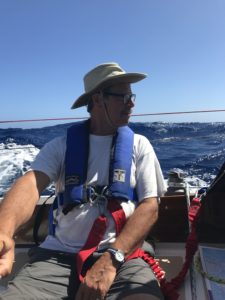 We left Rock sound Harbour at 4:50 AM, and sailed out of the harbor in the dark. Our route took us through the Davis Channel and out into Exuma Sound (1600 feet deep) and on to Warderick Wells Cut and Warderick Wells Cay. We did this under fairly brisk winds of 15 to 20 Knots on a broad reach which carried us along at the respectable speed of 6 to 7 knots, getting us in at the respectable time of 2:00 PM. Waves gradually increased during the day from not much to about 6 feet. Very rolly, but bearable. Neither of us got seasick, although we were plenty tired when we got in. Warderick Wells Cay is the headquarters of the Exuma Land & Sea Park, a 176 square mile park where hunting and fishing is prohibited.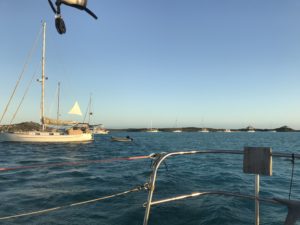 Warderick Wells Cay is clearly the most beautiful place we have been to so far. There is a half moon anchorage with the bluest water you can imagine.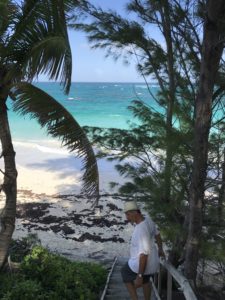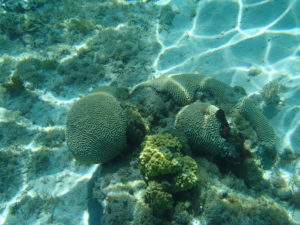 We hiked the trails, and snorkeled two of the reefs. The second day we were here, the boat at the next mooring attempted to leave at low tide, gave us too much room as he passed us, and ran aground. Of course, BoatUS doesn't come out here, so he was of his own, except for several of the other cruisers who dinghied over and offered advice. After trying a few things, he ultimately opted to wait a few hours for high tide, and to float off (Salli's suggestion).
Salli organized a pot luck dinner on a sand beach which included a display of a sperm whale skeleton. Very Cool. There were no supplies here, and no place to offload garbage. We spent three nights here.