We spent another week here preparing to go to the end of the Abacos and on to Eeleuthera. Sail repair, shopping, and a road trip.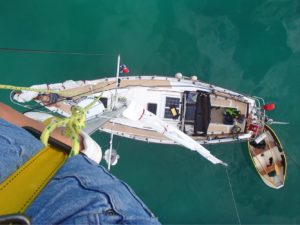 Wed, January 24, 2018
We walked across the narrow strip of land to the East to Mermaid Reef and did some snorkeling. Fishing and hunting is not permitted here, and the fish are clearly accustomed to being fed. Very nice. Lots of good pictures.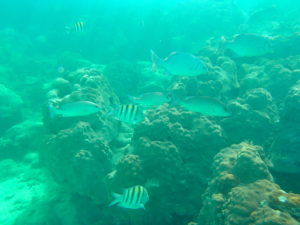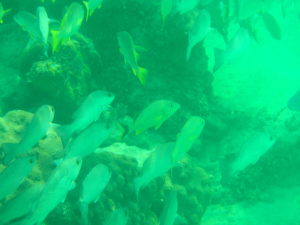 January 29, 2018
Road Trip: We rented a car (a left hand drive Buick) and drove to Little Harbour and Cherokee Sound. It is possible to sail to Little Harbour, but it is easier to drive. Cherokee Sound is very shallow and not good cruising ground for keel boats. Little Harbour is the home of an artist colony and a facility that does bronze castings using the lost wax process. Basically they create a sand mold (lots of sand here), and pour in molten bronze, creating lovely sea creatures and nudes. There is a museum and store with videos of the process, and tours are available.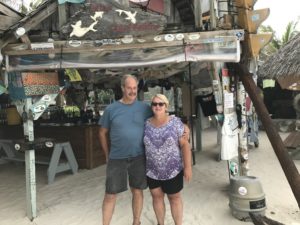 We had lunch at Pete's Pub, a nice place that has a grass roof, no walls, and numerous t-shirts stapled to the ceiling for decoration. A short walk to see the site of the old lighthouse and surf and we were off to Cherokee Sound. This is a fishing community where there is a small store, and several dozen nicely maintained small houses. We walked past the elementary school during recess. A couple dozen children running around outside: boys with regular ties, and girls with simple cross ties. There is a 770 foot long dock here to allow the mail boat to come in. We walked out the length of it in substantial wind. It seemed to be a bit fragile to us.