We left Grand Cay after walking around the small town and buying ice and the last loaf of bread in the small bakery.
We motored just a few miles to Double Breasted Cay, and after a few minutes, we noticed we were being followed by another sailboat, Aine. Double Breasted Cay, uninhabited, consists of two long strips of land with a small white sand island in between. We (Olive Oyl and Aine) anchored between the island and one of the strips, and adjusted our anchor twice to make sure we would have enough depth at low tide. The water here is such a wonderful color of turquoise and clear as glass. The beach has fine white sand.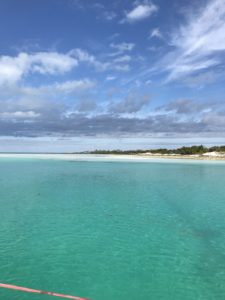 Doug and I swam the few yards to the beach and walked the island. I found a perfect small conch shell about the size of my fist. We met up with Aine's crew, Michael and his daughter Sarah and had a nice chat. The water was brisk but not too cold for swimming. The next morning was high tide. The island's beach disappears during high tide so we had to wait a couple of hours to swim again.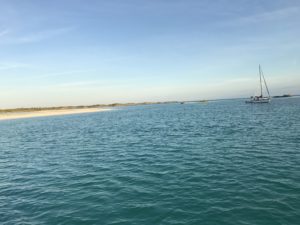 Doug spent time snorkeling around the anchorage looking for lobsters or conch without any luck.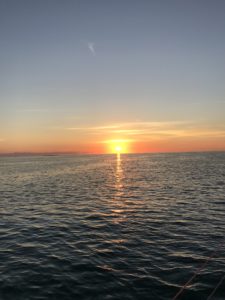 Monday, we left before sunrise for Allans-Pensacola Cay. There was little to no wind and the seas were smooth as glass. It was the kind of day where it was difficult to see where the sky ended and the water began.
It was a smooth enough ride that Doug was able to bake a loaf of sour dough bread. We enjoyed it hot out of the oven while we were underway.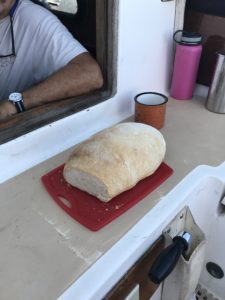 Allans-Pensacola is another uninhabited cay. It has several nice white sand beaches and lots of mangrove trees and other brush.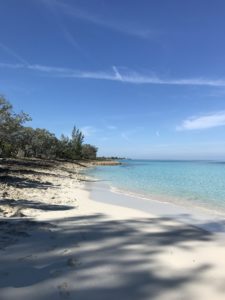 We anchored, did a bit of exploring, fixed dinner and called it a night. Monday night was a bit of a challenge; around midnight, we became inundated by no-see'ums. We have these pests in Virginia, but they normally are only a problem in the hour after sunset. In this new country, they are much more persistent.
Tuesday, we went in search for the Signing Tree, a big tree where boaters over the years have left assorted items with their name or name of their boat. Some people used old buoys, drift wood or floats. Others were pretty elaborately painted. My friend Angie told us we needed to visit here and add our contribution to the tree as well as look for her boat's name that she carved into an old float in 2013. It took us a couple of tries to find the tree. We dinghied around to the other side of the island, looked in 2 different coves before we found we had passed the tree on the way in, near a beautiful beach. We found Angie's "Mary T" float and nearby, we hung our "Olive Oyl' sign (made from leftover plywood from the galley, and leftover paint.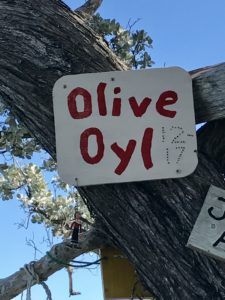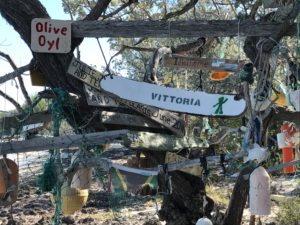 When we got back to Olive Oyl, we discussed ways we could avoid another night persecuted by tiny bugs, and decided we had enough time to motor over to Crab Cay for the night, where we had a magnificent sunset.