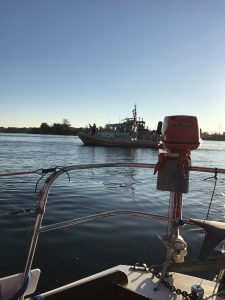 Yesterday morning as we were leaving Norfolk and coming to a bridge, we were approached by a very fast, armed Coast Guard boat. The man at the machine gun was very polite and explained that they were escorting a large ship and asked us to move to a small cove area and wait for it to pass. About 15 minutes later as we motored around in circles with 2 other sailboats this big tanker passed under the bridge with another armed coast guard boat behind it and then we were on our way to the Dismal Swamp section of the ICW.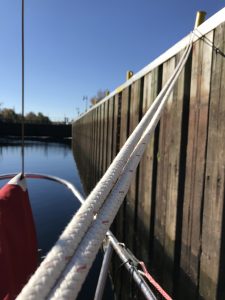 Entering Deep Creek lock. In the lock you have 2 lines around yellow bollards then the lock tender lets in the water to raise the boat to the next level.
Before entering the lock the lock tender, Robert very strongly suggested we turn around and go another way as they had a huge duck weed outbreak in the canal that was so thick it was stopping boats. Boats were over heating because the weed was clogging their water cooling system and or wrapping around the propeller. The worst was at the southern end of the canal. We decided to take the risk and went on through.
It was a beautiful sunny day, we saw bald eagles and great blue herons flying around. There was still some fall color on the trees.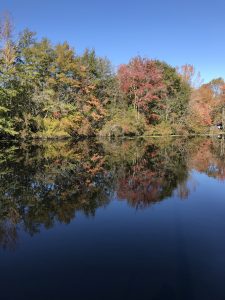 There were patches of duck weed, some pretty thick, along the way. Olive Oyl motored through it without a problem.
As we got closer to the South Mills lock Doug called and spoke to it's tender, Tammy. She told him the worst of the duck weed was in between the South Mills bridge and the lock (about 1/4 mile) she suggested getting through the bridge then gunning the engine to get to the lock.We did as she suggested. The duck weed definitely slowed the boat down but didn't overheat the engine.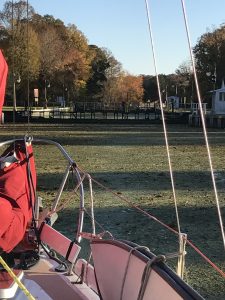 This is what it looked like approaching the lock. It looked like a thick grass lawn.Tammy told us it was 12 inches thick this summer and the frogs and turtles would walk across the top.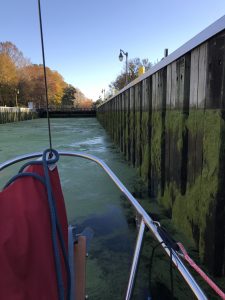 This lock lowers the boat down. You can see the thick duck weed on the wall as we were lowered.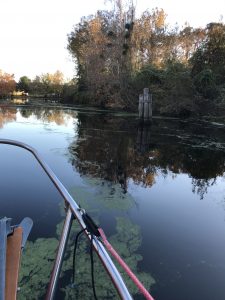 We made it through. The duck weed was pretty much gone on the other side of the lock. We tied up to these posts and celebrated Doug's birthday with a chili dinner. Going down the ICW was not our first choice but I am really enjoying the slower pace and the scenery.